Pilar Mur-Dueñas shares insights and discusses findings from the InterGedi project with our colleagues at Universitat de València
---
InterGedi member Pilar Mur-Dueñas visited our colleagues at the Facultat de Filologia, Traducció i Comunicació of the Universitat de València to exchange views and discuss new challenges about the main topics of our current research project: research dissemination, digital visibility and scientific, academic discourse. The workshop was well attended by IULMA members, as well as by students in the English Studies degree at the Universitat de Valencia. You can check the IULMA website where Pilar's visit was also announced.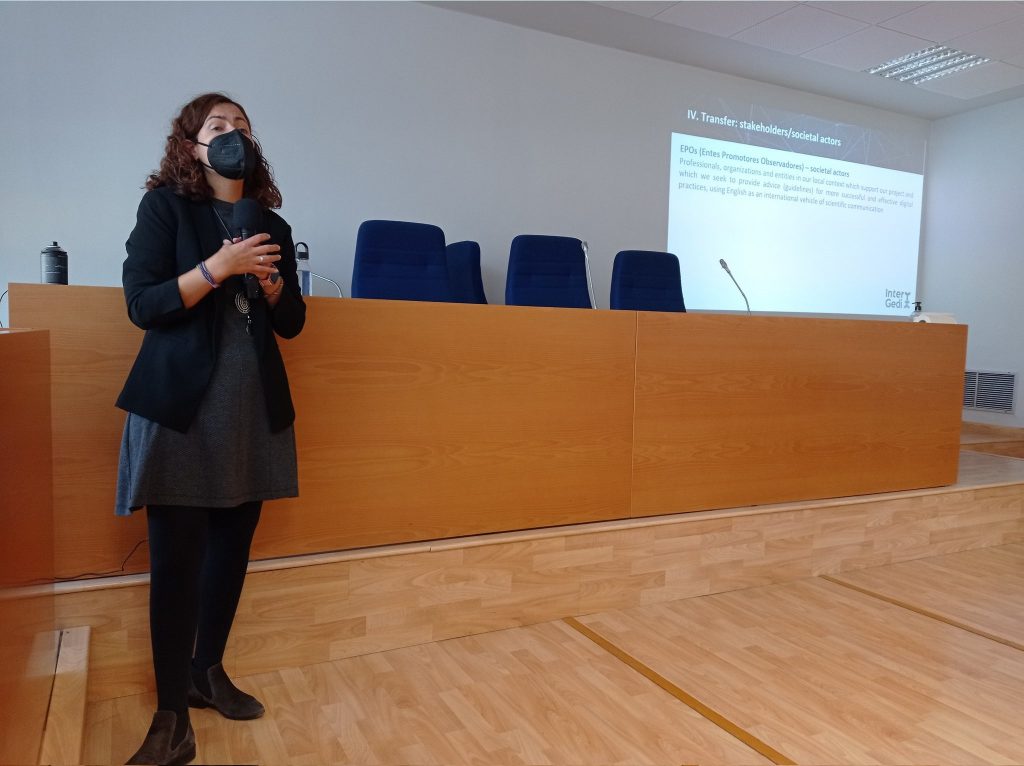 In her talk, "Visibility and Dissemination of Scientific Research through Digital Genres: A Discourse Analysis", she presented the InterGedi project, focusing on how we proceeded to compile and store the EUROPRO digital corpus and database (comprising two objects of study: research project websites and Twitter accounts), as well as how we theoretically and methodologically approach the analysis of these digital texts, genres and media.
She shared some of our latest research results, with a special emphasis on research projects' visibility and digital identity, contributing to the dissemination of our findings.
Another ultimate aim was to share the InterGedi research experience with IULMA members, as well as to provide tips and ideas that may help them in the design and application process of new research projects.
The focus of the talk was, therefore, placed on three main aspects:
Theoretical reflection: how digital communication is leading towards a regenreing and repurposing of digital genres in academic and professional contexts, and how digital practices are developing to maximise the dissemination and impact of scientific knowledge
Methodological perspective: how they have applied different tools for the compilation, storage, tagging and analysis of our corpus, with special attention to the software for qualitative analysis NVIVO.
Tranfer of results: how the Aragon autonomy is benefiting from the results and implications of the InterGedi research project and how we are establishing networks with diversified audiences.
It was a true pleasure to meet our colleagues and share such a fruitful discussion with them. We hope to have another session soon and keep exploring new research areas and approaches.