InterGedi participates in Psylex V workshop
Last 24th and 25th October, we participated in the Pyslex V workshop, organized by our colleagues, the Psylex research group, at the Department of General and Spanish Linguistcis at the University of Zaragoza. The event was held at the Faculty of Education and, in this edition, focused on the exploration and exploitation of a wide array of methods and procedures for the study of Applied Linguistics. This international symposium gathered a rich group of experts from different universities to deal with corpus studies, ethnographic approaches to language, the use of Big Data and psycholinguistics, among others.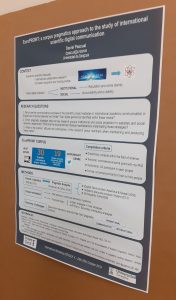 We presented a poster to introduce the work we are doing with our current corpus EuroPROW (European Project Websites) and its extended version EuroPROWT (including Tweets). Meaningful methodological decisions applied to the corpus were explained, such as the criteria for the compilation of texts and the annotation carried out to tag them. This was accompanied by some live discussions with participants about the theoretical approaches to the corpus, with a special emphasis on digital genre studies, discourse analysis and pragmatics.
Overall, it was a great event that gave us a lot of input and feedback to keep on analysing international digital communication in the academic collaborative context. It was insightful to exchange views and opinions about methods and our particular research process. Now it's time to put it all in practice and move forward!